There may be occasions when you need to import data to or export data from your database. IDS helps you easily accomplish both these tasks.

Exporting Data
Exporting data is by far the more common of these two options. Your IDS system can include this export functionality into either your data search screens or your reporting screens, allowing you to exactly the data in which you are interested.

Once you have specified which data records should be exported, the export screen will then allow you to further define which part of each data record is exported by allowing you to check off the columns contained within your database that should be exported. You can then specify several formatting options and the file type of either a comma or tab separated format. This exported file can then be read by another database, Excel, or by a simple text editor.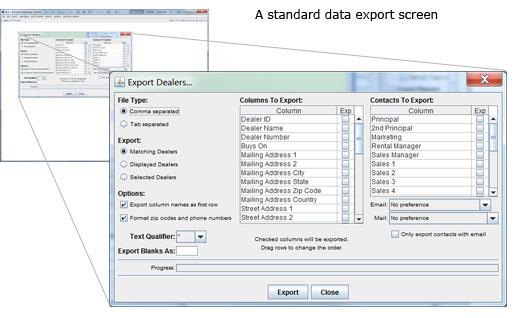 Importing Data
Importing data is another quite useful, if less frequently used, option. If you do get frequent influxes of new data, then it would be important to have the import functionality incorporated into IDS. This allows you to import a data file directly into your database. Each import screen is tailored to your specific database and source file type. We will discuss this with you prior to implementing the import functionality.

For more information on how your website, your company, and your customers can benefit from IDS integration, please email us at info@zbluesoftware.com or call us at (203) 595-9988.